Building a positive and strong CLASSROOM COMMUNITY & CLIMATE in my classroom is THE #1 MOST IMPORTANT PART of setting up my classroom each year. Hands down. No question. I honestly believe that my students' success each year academically is DIRECTLY CORRELATED to a genuinely positive classroom experience. Our data tells us this. Our parents tell us this. Our students tell us this. Once kids L-O-V-E, LOVE coming to school each day... the rest is easy peasy lemon squeezy!
Obviously, building that community requires relationship building, which also involves STUDENTS. However, there are certain steps we take beforehand to set up our classroom structure and decor to promote a positive classroom climate.
NOTE: There are tons of directions this post can go in, but I will do my best to stick with community building with respects to my CLASSROOM SET UP, DESIGN, AND DECOR!
CLASSROOM VALUES ART PIECE
THANK YOU LYLAS DESIGNS FOR THIS BEAUTIFUL GEM IN OUR ROOM!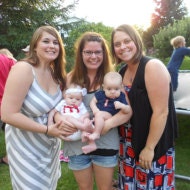 LYLAS Designs
(Etsy)
So, one night while I was looking on Etsy, I came across this sign. Well--not EXACTLY this sign. Instead of saying "IN THE BRANKE BUNCH" it said "IN THIS CLASS". I LOVED all of the values that were so beautifully displayed on it, and instantly wanted it in my classroom. THEN, I saw that you can CUSTOMIZE it! So that is how I got one that says IN THE BRANKE BUNCH! You can also customize the values and other words as well. She is AMAZING!!! When it shipped to my school, it was even more beautiful and well-made than I even thought from looking at the picture online. It is a 12 x 24 piece of painted wood with Vinyl writing. Very sturdy, nice and big, and a beautiful addition to our classroom. I love this so much that when I have kids of my own one day, I want to get a version made for my home!!
HOW DO I GET THIS:
GO ONTO ETSY! Never been on Etsy.com before?! WATCH OUT! Set aside a few dozen hours to explore! IT'S AMAZING!!!! You will get hooked!!! Anyhow, here is LYLAS Design's link to this particular product: IN THIS ROOM SIGN.
3M STRIPS SAVE THE DAY AGAIN! Again, I used 3M strips to mount it on the wall. Just be sure to look at the amount of weight they can hold. Mine has been up for over a year and still going strong!!
I feel that any time we put our kids names on our walls, it strengthens our classroom community and climate. I think birthdays are so important as well. I LOVE birthdays, and you know the kids do too. And there are a LOT of birthdays to remember... look at all those!! So, this chart has many purposes: A) Gives students ownership over the classroom by having their name and birthday displayed on the wall; B) It is a great MATH activity at the beginning of the year (talking about mode, range and average birthdays per month, etc.); and C) It helps us to never forget a birthday!!!
HOW DO I GET THIS:
GO ONTO REALLY GOOD STUFF! Here is the direct link to this BIRTHDAY GRAPH.

Here is Really Good Stuff's ACTIVITY GUIDE for this product to see more about how to use this:
V.I.P. OF THE WEEK
So this is basically the "cool" upper elementary version of STAR OF THE WEEK. Ha! It is a chance to spotlight a student each week so we can learn a little bit about them. Then, all week long, the VIP student is displayed on our VIP of the Week wall for everyone to see!!
How do we pick the student each week, you ask?!? We actually have a school wide PBIS system that we use for this; however, you could easily do this in your own classroom all the same. We have something called "Viking Tickets" that we give out when we notice students are doing things "The Warner Way"--meaning, with respect, safety, or responsibility. (I won't go too far into this for this post. I'll talk about it when I do a PBIS post!) Anyhow, the students turn in their tickets each week, and we randomly pick one to be the VIP of the Week!
HOW DO I GET THIS:
Get out that Cricut again!!! So, starting from the top down... I made this heading with the Cricut, of course! It cuts out circles and the letters as well. I rubber cemented the V, I, and P each onto a separate circle, and then I rubber cemented "OF THE WEEK" onto a yellow sentence strip.
Adhesive magnets! I smacked on some adhesive magnets to the back of each of the circles and the sentence strip so it would adhere to my white board. (To the right of my LEARNING GOAL portion of the board.)
SPOTLIGHT ON ME POCKET CHART: I got this kit from Really Good Stuff; however, I believe it was discontinued. However, these were the different portions of the kit that the students filled out. So, under the VIP OF THE WEEK heading, you can just have them complete some "ALL ABOUT ME TASKS" like these!
SENTENCE COMPLETIONS: This is a fun way to learn some interesting facts about your students. I always am the FIRST VIP OF THE WEEK each year, so that I can model to the students what to do when it is their week. This is the sentence completion sheet that I filled out:
PICTURE COLLAGE: The second part shared by the VIP of the Week is a picture (or collage) OR drawing that represents who you are, something you value, or things/people you love. Below is my sample. I tell them that I brought these pictures in because they are pictures with my husband and with my siblings, and my family is so important to me and they have helped shape me into the person I am today. My students LOVE seeing pictures of me outside of school (Wait?! Teachers don't live at school!? HA!) and of when I was a kid. It helps them see me as a real person who is relatable and REAL... AGAIN building community!!!
LIFELONG TIMELINE: The final portion shared by the VIP of the Week is a timeline of the VIP's life. The example below is mine. Therefore, it is much fuller than the students will probably have, since I have lived for almost 3x their life!! (OYY!) For this, I just give the students a sentence strip for them to create their timeline on. During the first week, when I model this, we do have to talk about what a timeline is and what types of things one might include in a timeline of their life.
VIP TREATMENT: The last portion of the VIP of the Week classroom setup is getting some special VIP SEATING!! :-) We have two VIP chairs in our room (one for each of our VIPs). The VIPs can sit in this chair any time during the week when there is free seating. For some reason, I had a very difficult time finding pictures of my kids in the VIP chairs. Hmmm... BUT I did find one. PLEASE NOTE: This was taken on CUDDLE-UP-AND-READ DAY! That is the reason for the blanked and stuffed animal! Blankets and stuffed animals are NOT, I repeat NOT, part of the VIP treatment!!! IT IS JUST THE CHAIR!! :-) I bought this chair at WALMART!!! (You can click on that link to take you to the product.) The normal price of this chair at Walmart is about $25... BUT they do last a very long time! (MUCH more life expectancy than the bean bags!)
BRANKE BUNCH PENNANTS & JERSEYS
So, the students create both of these the first week of school, and we hang them before Curriculum Night. I'll first talk about the JERSEYS. I LOVE the concept behind the students creating jerseys. We explain to the kids that we are making jerseys because we are a TEAM. The BRANKE BUNCH on the sleeves symbolize unity and teamwork. However, EACH TEAMMATE in the Branke Bunch is VERY different and unique. We all have different strengths, like different things, look different, and have different personalities. Each student is asked to DECORATE THEIR BRANKE BUNCH JERSEY TO REPRESENT THEIR UNIQUE CHARACTERISTICS. I LOVE how different they all look up there, yet so cohesive as a team. It's beautiful! Here is one example of a jersey. This particular student had a PASSION and FASCINATION with zebras... hence the zebra print. (She brought in her own zebra print duct tape to make her jersey in class.) She also loves holiday time with her family, which is why she chose the colors green and red for the rest of the jersey.
HOW DO I GET THIS:
CLICK ON THE IMAGE OF THE JERSEY TEMPLATE BELOW: Once you click on it, it will take you to Google Drive. All you have to do is click "FILE" then "DOWNLOAD" and you will have an editable form of this jersey in Word.
EDIT YOUR CLASS/TEAM NAME: Unless you are also BRANKE BUNCH by chance, you will edit your school/class/team name. You can always delete it all together if you wish!
ENLARGE & COPY: We like to enlarge and copy this jersey on 11 x 17 CARD STOCK. 8.5 x 11 is pretty small... especially if you hang it from the ceiling like we did. Also, since the kids will be using markers, gluing on objects, etc. you will for sure want card stock! These stay up in our room all year long, so card stock helps keep them looking good all year long!
EXPLAIN ASSIGNMENT: You will explain the assignment to the students using the explanation from the beginning of this section. (Jersey = team; decorate based on unique characteristics; etc.) We inform the students that they will not cut the jersey out until they are finished decorating. However, they should NOT decorate outside of the jersey, since they will be cutting it out and throwing away the outer part. Then, the students follow these steps:

STEP 1: Students LIGHTLY use PENCIL to write their name in the semicircle. They can choose to write their FIRST or LAST name. (Last name is what is typically on jerseys, but some feel more comfortable with their first.) They should write in ALL CAPS and try to evenly space all the letters so that they fit perfectly in the semicircle. They may need to erase several times before they get this!!!
STEP 2: Write their CLASS NUMBER (or favorite number if the students don't have class numbers) IN PENCIL in the oval under the semicircle. (Again, writing neatly and filling the space!)
STEP 3: Go over their name and number in MARKER. (Remind them that every color choice and artistic work they do on this jersey should be thought through and symbolize something about who they are.)
STEP 4: Brainstorm and sketch out their design.
STEP 5: Decide which, if any, materials they need from home to decorate their jersey. Some students bring in photographs or magazine cutouts to represent something about their lives; some bring in decorative embellishments; some bring in stickers; some just stick with the markers in the room! Whatever they bring though, it must be 2-D, their parents must know they are bringing it to school and it will not be returned, and all objects must be brought in the next day of school.
STEP 6: (THE NEXT DAY!) Students decorate their jerseys!
STEP 7: Students CAREFULLY cut out their jerseys & dispose of the scraps.
STEP 8: Students must share their jersey with a classmate of their choice.
STEP 9: Student must share their jersey with the teacher and get it approved.
STEP 10: If approved, it is turned in to the designated spot. If not approved, they go back and complete their jersey until it is approved and turned in.

DISPLAY THE JERSEYS: Finally, once all the jerseys are turned in, hang them up for display!!!
So, now for the GOAL PENNANTS! I LOVE these! It is a beautiful way to post students goals for the year, while brightening up your room with student work all at the same time!!!
FRONT (Photo, Name, Decorate):
BACK (Goals):
HOW DO I GET THIS:
Get back on REALLY GOOD STUFF: For under $9, you get a full class set (32) of these pennants, plus the hanging string! CLICK HERE TO SEE THIS PRODUCT!
SETTING GOALS LESSON: You will want to start off by going over how to set goals, and thinking about the steps needed to reach those goals. We have students write their goal and 3 steps on an index card as a rough draft. Once they get their goal approved by an adult, then they can get a pennant.
PENNANT DIRECTIONS:

First, neatly in pencil write your name in ALL CAPS in the ribbon (under the circle) on the front of the pennant to fill the ribbon space.

Next, copy over your goals and 3 steps from your rough draft (index card) on the lines on the back of the pennant neatly IN PENCIL!!!

Then, use a bold pen or skinny marker pen (Paper Mate Flairs are my personal fav!) to neatly trace over your writing.

Also, go over your name on the front in a bold color as well.

Use MARKERS (NOT crayons or colored pencils) to color and decorate the front side of your pennant using beautiful, bold colors. (DO YOUR BEST WORK! THIS WILL BE UP FOR YOUR PARENTS TO SEE AT CURRICULUM NIGHT AND THEY WILL STAY UP ALL YEAR LONG!) This should be their very best work so that it is something they are proud to look at each day.

NOTE: Inform them NOT to color inside the circle, because their photograph will be placed there and cover up anything drawn inside of it.

Once they feel they are done, they must get it approved by an adult. Writing should be neat and bold, coloring should be in MARKER (otherwise they will look dull to people looking up at it from the ceiling), and it should be their very best work. If it is approved, they turn in their pennant.

PUTTING PHOTOS ON THE PENNANTS:

First, take a headshot of each student.

Then, go to this link: AVERY 22830 TEMPLATE DESIGN ONLINE

Choose the BLANK & TEXT ONLY option.

On the RIGHT, pick the "EDIT ONE" option.

On the LEFT, click on "IMAGE" and insert one headshot.

Size the image so that the whole face fits in the circle, but there is no empty space in the circle.

Then, click on the next circle on the sheet (back on the right side), and repeat with another headshot.

Repeat this process until each of your students cute little faces are in their own circle.

Then, print the labels on AVERY 22830 LABELS.

HANGING THE PENNANTS:

Attach a paper clip on the end of the string.

Thread the pennants through, so that they are all on the string and facing the same way.

Hook the paper clip end into the ceiling. ***Make sure someone is holding the other end! You don't want all your pennants to fall off that you just threaded through!***

Walk the other end to the other side of the room. If the pennants hang too low, find the middle and hook the middle to the ceiling using a paper clip.

Then, attach another paper clip to the end and attach it into the ceiling.

Make sure all the pennants are spaced evenly.
CLASSROOM CODE OF COOPERATION
The final way I create a warm, caring classroom climate through my classroom setup and decor is by creating a Code of Cooperations as a class. At morning meeting on one of the first couple days of school, we write "CODE OF COOPERATION" on the board, and then ask if anyone knows what any of those words mean, and if they can infer what a "Code of Cooperation" would be based on the meanings of those words. Then, I pose the students with the following question: What do YOU need from us and each other in order to be successful this year? We brainstorm a list on the SMART Board as a class. Then, we see if we can combine any, or if any could be taken off to revise our list. We turn our list into a poster and have the students all SIGN THE CODE, and we post it in our room for everyone to see. The first couple weeks, we recite this code as a class after the pledge each morning. Then, we slow it down by reciting it only on Mondays. After the first couple months of school, we really only recite it if we feel the students need to be reminded of it. We refer to this code OFTEN! We remind them that these are the requests THEY MADE FOR ONE ANOTHER! These are things that YOU (THE STUDENTS) SAID YOU NEED IN ORDER TO SUCCEED! It is a great way to give them ownership over their actions.
HOW DO I GET THIS:
TYPE UP THE FINAL LIST: Find

some cute clipart like the one in my example above, and insert the headings and the expectations the students developed during the brainstorming session. (Leave space at the bottom for every student to sign!)

EXPORT TO IMAGE: After you finish creating your Code of Cooperation, save your document as an image.
TURN YOUR IMAGE INTO A CUSTOM POSTER: If you have a poster maker at your school, then use it! (LUCKY YOU!!!) If, like me, you don't have one at your school, you can click on: STAPLES PRINTING CENTER.
UPLOAD YOUR IMAGE: Pick your size, upload your image, and go through the steps. They will ship it right to your school as a poster.
SIGNATURES

: Have each student read through this code (or "contract"), and sign their name under the expectations in a Sharpie. (Let them know that in order to fit everyones name, they must ONLY sign their name! NO DOODLES OR COMMENTS... It's very tempting for them!)

LAMINATE: Laminate your poster once everyone has signed.
DISPLAY YOUR CODE: Find an accessible spot to display your code! We kept ours on our easel. That way, we could grab it and hold it up during Morning Meeting when we recite it.
Well, that's all I have for you for now! I hope this helps you in creating a positive classroom climate in your room!
~Keep Calm & Branke Bunch On~